Continuing my streak of not posting the first chapters of the Sword and the Hawk I've planted a vegetable garden, in an old garden bed which was full of plants I didn't actually like, and I decided to share some pictures of it (click for bigger):
I've planted six heirloom tomato seedlings I got from Bunnings in a single punnet. There's supposed to be two each of Mortgage Lifter, Black Krim, and "Oxheart"-the label didn't say which of the several varieties of Oxheart it was.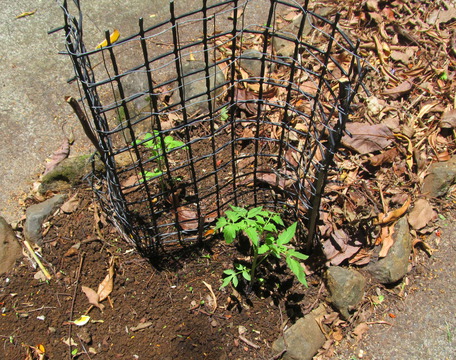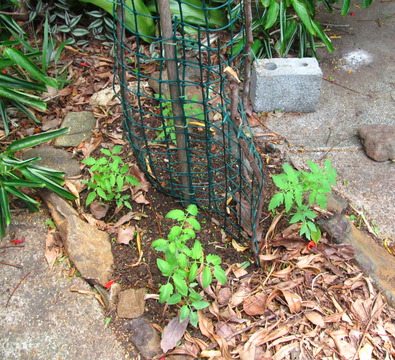 Heirloom varieties of tomato are actually rather interesting, they often have interesting [and probably true] back stories; like the Black Krim which was supposedly brought back from Crimea ("Krim" in Russian) by Soviet Soldiers. I don't know how true it is, but hopefully they'll produce some nice tomatoes regardless.
I also sowed some basil seeds around the base of the tomatoes since basil and tomato make good companion plants from what I've read. I'm pretty sure this is a picture of one of them coming up-there's enough weeds growing that I'm not exactly positive though. I'll let them grow for a bit longer and pull up anything that doesn't look like basil in a week or so.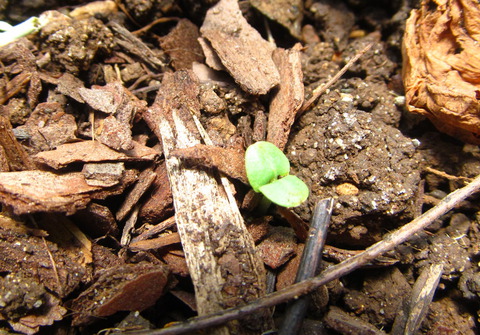 I also planted some carrot and silverbeet (Swiss chard) seeds that I got in my stocking for Christmas. I'm more confident that I've correctly identified these seedlings, since they are a bit more distinctive in appearance: